Women's Self-Defense Training

The Lake Forest Police Department women's self-defense course covers the importance of critical thinking, defense strategies, assertiveness, powerful communication skills, and easy to remember physical techniques. The instruction is based on the belief that women can act competently, decisively, and take action for their own protection. This program is taught by Lake Forest Police Officers and demonstrates selected defensive tactics which are tailored to the physical ability of the individual. Hands on tactics and techniques are taught in both a classroom and a defensive tactics room. 
Contact us to sign up.

Citizen's Police Academy 
The Lake Forest Police Department offers local residents and business owners a chance to get up close and personal with police work through the Citizen's Police Academy. The purpose of the Academy is to enhance communication between the Department and the community it serves by exposing students to the challenges faced by officers every day.
Students learn about many of the aspects of police work including patrol, investigations, the arrest process, and the criminal justice system. During the 10-week class, students will ride along with a patrol officer, fire departmental weapons, and meet officers specializing in various areas of police work. 
Contact us to sign up.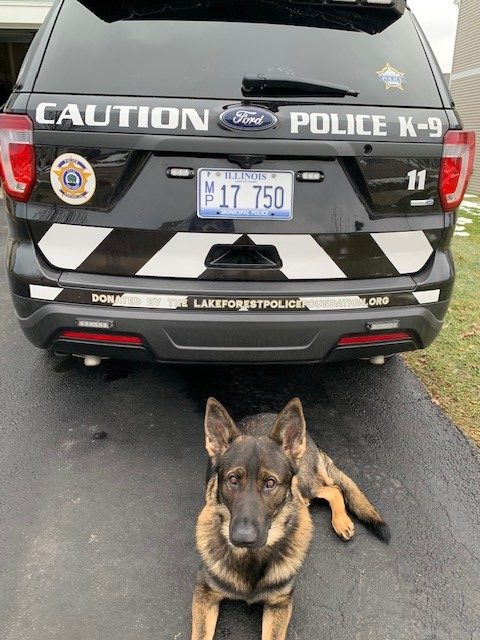 Police K-9 Program
In 2019 the Lake Forest Police Department, in cooperation with the Lake Forest Police Foundation, the D.A.S Charitable Fund and the Havey Family restarted the Lake Forest Police K-9 program. Our new K-9 "Chase" and his handler Officer Mike Hughes hit the road in June of 2019 after undergoing 8 weeks of training at TOPS Kennel in Grayslake, IL. "Chase" was purchased through a grant from the D.A.S. Charitable Fund and through a donation by the Havey family of Lake Forest. The 2019 Ford Explorer squad car used by Officer Hughes and Chase was purchased and donated by the Lake Forest Police Foundation. This purchase totaled $60,000 and included the squad car, all installed police equipment as well as specialized K-9 equipment to ensure Chase's safety. Chases is primarily trained for narcotics detection and tracking and can be found working the streets of Lake Forest on the afternoon shift.